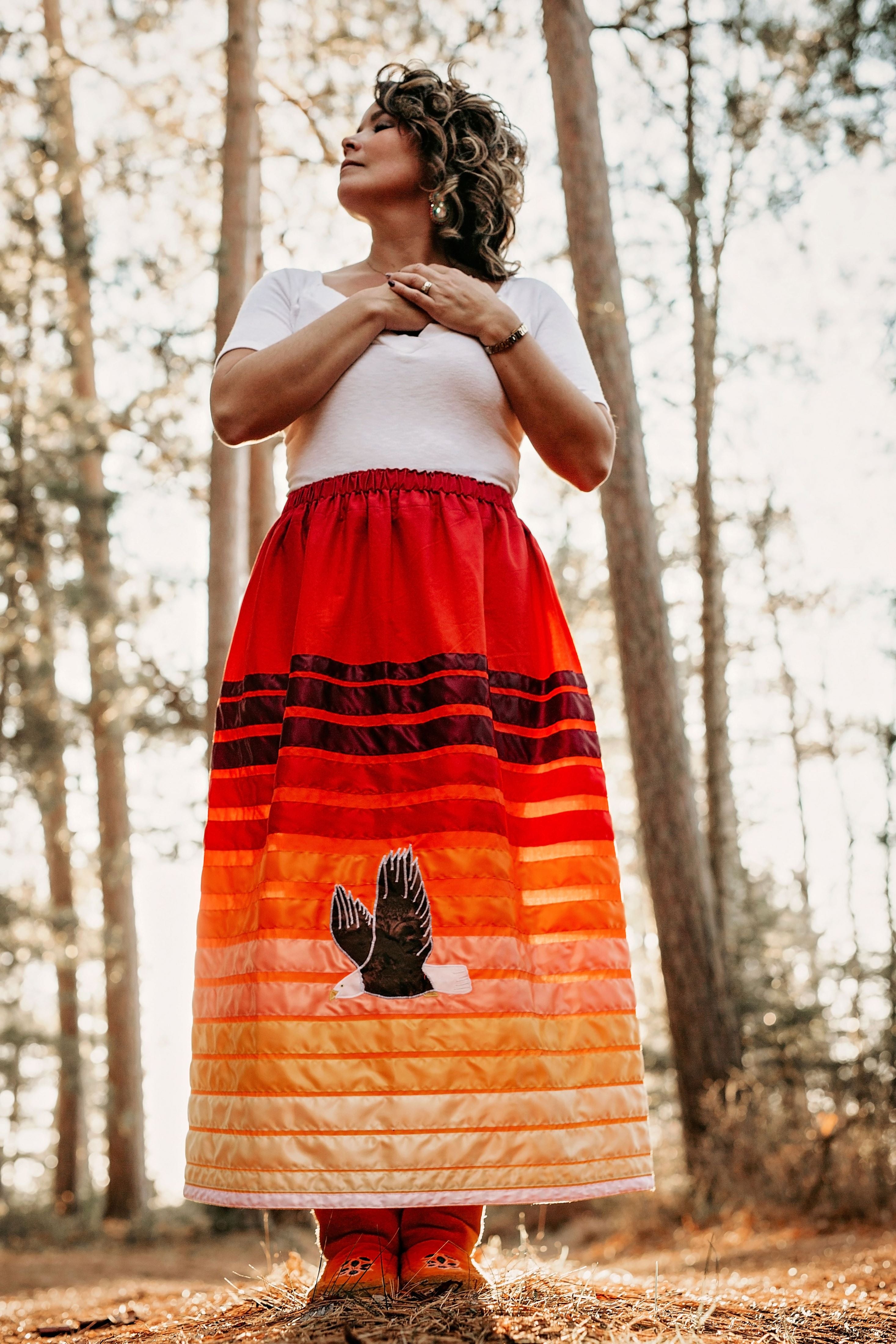 Shawna Boulette Grapentine
Known for using silhouettes of nature and vibrant colours in her custom paintings, Shawna Boulette Grapentine is an Oji-Cree, born in the city of Winnipeg, Canada. She was raised in the small Metis community of Manigotagan and is a member of the Hollow Water First Nation treaty 5 territory in Manitoba. Currently, she and her family reside in the town of Rainy River, Ontario.
The middle child of seven, five brothers and one sister, her father cut pulp and worked in the local Bissett Gold Mine while her mother was a stay at home mom until the later years joining the Frontier School Board of Trustees. As a family growing up in the country, they enjoyed the outdoors. With little they had, her parents remained creative making holidays and family gatherings always filled with music, fun, and laughter, inspiring her both musically and artistically. There was always a great amount of respect for each other and everything that the family had.
In Shawna's earlier years. she learned she had a great passion for sketching, painting and creating art. She's proud to have been part of the Frontier School Division, providing her with a solid foundation for the arts, she was supported and inspired through many of the schools' programs.

About Moon & Back Custom Arts
The name "Moon & Back Custom Arts" originated from a children's storybook that Shawna shared with her son, relating to her unconditional love for him.
As an Indigenous owned company and proudly Canadian, her vision is to create one-of-a-kind pieces bringing loving memories to life inspired by her culture, values, and passion for art.
Moon and Back Custom Arts has been in operation since 2010, producing more custom art pieces each year and gaining recognition across Canada and the US.
Shawna is honored to be sharing her talent through her artwork, along with inspiring and teaching Art Programs to children and adults of all ages. Her artwork highlights the beauty of the Indigenous culture, her love for mother earth and everything that surrounds her.
"I am so fortunate, to be creative and artistic is a blessing... to teach and inspire others is simply remarkable!"